Former LSCP CEO, Amy Clickner Receives Multiple International Economic Development Council Awards
Posted by Lake Superior Community Partnership on October 7, 2021
Amy Clickner, CEcD, CFRM, the former CEO of the Lake Superior Community Partnership, was recently awarded the Fellow Member designation, the Jeffrey A. Finkle
Organizational Leadership Award and Honorary Lifetime Member status by the International Economic Development Council (IEDC).
The IEDC, the largest association for professional economic developers in the world, has recognized fifteen leaders in the field with its 2021 Honorary & Leadership awards for achieving excellence in the profession. Nominees for these individual awards were selected through a months-long process and from a pool of many highly qualified nominees.
The Fellow Member status is conferred upon active IEDC members who have attained unusual stature in the field of economic development and closely related disciplines. Unusual stat
ure is
defined as significant contributions to the profession through service to the Council and/or academic endeavors directly related to the practice of economic development.
The Jeffrey A. Finkle Organizational Leadership Award recognizes an individual who has continuously led the same public or non-profit economic development organization with integrity, tenacity, and a philanthropic spirit for at least 15 years. Organizational Leadership Award recipients also automatically received the Honorary Life Member designation. Honorary Lifetime Member status is conferred upon active or former members of IEDC who have furthered the profession of economic development and have been a teacher or inspiration on the part of the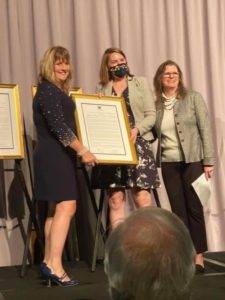 profession to others in many communities.
"It is truly an honor to be recognized by the IEDC for work I have done in economic development. But this award also goes to the amazing team I worked with over the years and supportive board members that have allowed the LSCP to fully engage in the IEDC and all it has to offer. I am humbled and grateful," said Clickner.
Clickner served as the LSCP's CEO from the organization's inception in 1998 to March of 2021. Clickner is a Certified Economic Developer (CEcD) through the International Economic Development Council (IEDC) and a Certified Fundraising Manager (CFM) through the Center on Philanthropy at Indiana University.
Clickner will be honored for these awards during the IEDC 2021 Annual Conference this October.
###
For more information, contact the Lake Superior Community Partnership at (906) 226-6591. Prepared by Ashley Szczepanski.
About Lake Superior Community Partnership
The Lake Superior Community Partnership (LSCP) is the region's leading resource for economic development, providing a wide variety of affordable and effective development services.  The LSCP helps its partners make the connections that matter – between businesses, organizations, leaders and legislators, and provides a powerful legislative voice for programs and policies that strengthen the regional economy.  More information on the Lake Superior Community Partnership can be found at www.marquette.org.