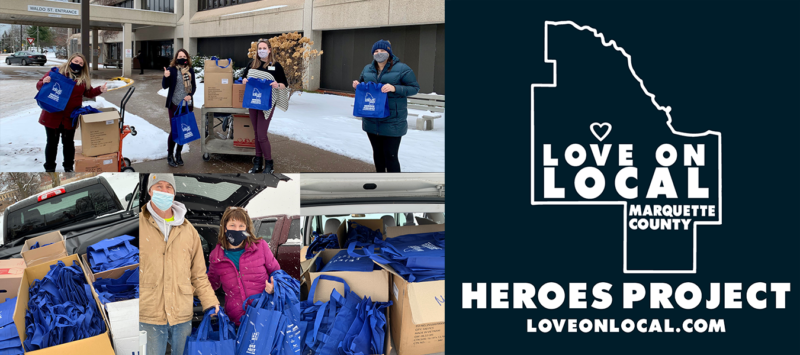 Local Heroes Project
Say Thank you to Local Heroes!
With COVID-19  cases surging again, we are seeing our front line workers once again overwhelmed as they serve our community. The idea to provide a simple "thank you" to remind them that they, and their services, are appreciated was hatched and the Love on Local Heroes Project started. What better way to show appreciation than with products sourced from our local businesses also impacted by the virus.
All of our frontline workers are important! But in order to manage this program, we will build it out in stages based on the dollars raised. We have successfully completed Phase One and Phase Two of this project – providing gift bags to hospital staff and Love on Local gift cards to nursing home staff.
How can businesses help?:  We hope you will consider donating. You may make your donation through our 501C3 Lake Superior Community Partnership Foundation by contacting Megan O'Connor at megan@marquette.org.  You will be recognized in the gift card, media, and website.
How can you help as an individual?:  Individuals can also donate the same way as a business.
For more information call 906.250.0512 or ashley@marquette.org.