Partner Spotlight with ABC 10
Posted by Lake Superior Community Partnership on October 25, 2021
This
year we have launched a monthly Partner Spotlight program as a new way to get to know LSCP Partners!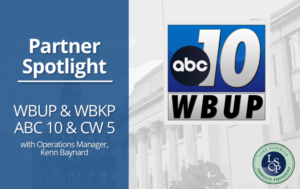 This month's Partner Spotlight is WBUP & WBKP ABC 10 & CW 5! We spoke with Operations Manager, Kenn Baynard about what makes ABC10 unique and standout in Marquette County. "As an affiliate for two networks (ABC and CW), we have been a launching point for many journalists breaking into their careers," Kenn said.
ABC 10 is a local television company that provides a national perspective while emphasizing the Marquette County community. ABC 10 went live for the first time 25 years ago with Monday Night Football and has continued to showcase Marquette County ever since. "When aspects of your job include capturing video of the incredible natural beauty of the Upper Peninsula, you can't go wrong!," said Kenn, "While news is our main focus, a natural byproduct of our stories is area attractions, businesses, and organizations get profiled and promoted."
Like many businesses, ABC 10 overcame and adapted to the new challenges of business growth, like changes in technology. "Navigating the changing waters of technology through the digital revolution, including the switch from standard to High Definition, while remaining a consistent and dependable viewing option for our audience" is one issue ABC10 overcame, said Kenn.
Thank you to ABC10 for all that you do for our community, and happy 25th anniversary!