Partner Spotlight with Eco Smart Home Pros
Posted by Lake Superior Community Partnership on May 25, 2022
This
year we have launched a monthly Partner Spotlight program as a new way to get to know LSCP Partners!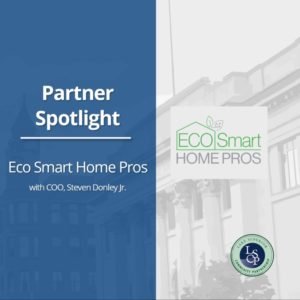 This month's Partner Spotlight is Eco Smart Home Pros. As a new business to Marquette, Eco Smart Home Pros has been in around since 2013. We spoke with COO, Steven Donley Jr. about their expansion through the technology sector and in Marquette County.
Building on his passion for technology and programming, Steven Donley Sr. started Eco Smart Home Pros nine years ago to help customers connect their homes or offices to work and live a happier, safer, and more sustainable life. Since the beginning, the company has grown from being a one-man show to now employing four full-time employees and one part-time employee.
Eco Smart Home Pros prides itself on getting to know its clients to understand their needs in order to build a technology solution that is as unique as their business. Focusing on the client outcomes, they've been able to establish themselves as an invaluable partner that helps their clients grow. Eco Smart Home Pros works with many industries including healthcare, hospitality, food service, industrial, office, and more.
One thing they wish their clients knew is the importance of bringing technology into their project planning processes earlier. "Technology can be a significant portion of a project and waiting until the end to plan for those needs can result in higher costs and slower implementation of those solutions. If you are in the planning stages for your home or office and don't have a technology plan, call our team at (231) 683-2127 or schedule a consultation on our website ecosmarthomepros.com," said Steven. That way, the Eco Smart Home Pros will be able to offer a broad range of technologies that include different brands, programming languages, budgets, and equipment. By offering their clients the right technology solutions, they help businesses thrive.
Eco Smart Home Pros is an active business in Marquette County. Some upcoming events Eco Smart Home Pros is sponsoring include the Marquette Builders Exchange Annual Dinner, Iron Range Roll, and the LSCP Golf Outing. They like working and sponsoring Marquette events because they feel supported by many organizations in the County. "We love the community," said Steven, "We have forged new relationships with many Marquette-based companies and are now using them for our uniforms, printing needs, marketing, tools, etc. Three employees at Eco Smart Home Pros are also graduates of Northern Michigan University. We are proud to be growing our business in Marquette."