Partner Spotlight with Link Learning
Posted by Lake Superior Community Partnership on January 10, 2022
This
year we have launched a monthly Partner Spotlight program as a new way to get to know LSCP Partners!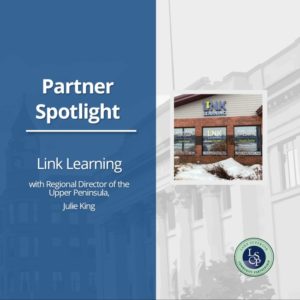 This month's Partner Spotlight is Link Learning! We spoke with the Regional Director of the Upper Peninsula, Julie King, about their mission in our community. By blending brick and mortar with virtual schooling, Link Learning provides students with the opportunity to build a personalized plan, while supporting them on their path toward a successful education. Link Learning's online high school serves a wide variety of students. For some, it may be a second chance at obtaining their high school diploma. For others, it can provide the flexibility and one-on-one attention needed to earn their high school diploma. Link Learning's personalized approach involves working with students ages 14-21 and their families to create a plan specific to their needs. Each student is assigned a mentor who walks with them each step of the way! Though the program has been in Michigan for over ten years, and in the UP for over eight, Link Learning's biggest challenge is getting over the stigma of online learning. Julie says that not all online programs are the same. "Our program uses sequential learning and it is what makes Link Learning so different. Students work on one class at a time and can focus all their energy to complete that one class and then move on to the next one." Just because they are online, doesn't mean Link Learning is not a full-service school. "We have locations where students can drop in and receive one-on-one support. We have certified teachers, mentors, school social workers, and English language learner support available to all students. We offer 504 plans and IEP services for students if needed." Unlike other programs, Link Learning allows students to work on their schoolwork at the time they can be most productive, providing flexibility to work around their busy schedule. Link Learning offices can be found in Marquette, Escanaba, and Menominee. There are also an additional ten centers in the Lower Peninsula. Join the Marquette office located at 2170 US41 West for a ribbon cutting taking place on January 24th at noon. For enrollment information call (906) 767-0228. You can also find out more at 
linklearning.org
 or visit their YouTube page at 
youtube.com/channel/UCXqTtCpAJK2QSNTu86X6sxw
.