Partner Spotlight with Marquette Mountain Resort!
Posted by Lake Superior Community Partnership on September 24, 2021
This
year we have launched a monthly Partner Spotlight program as a new way to get to know LSCP Partners!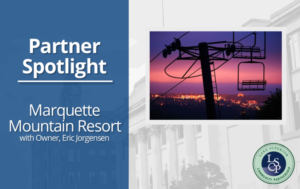 This month's Partner Spotlight is Marquette Mountain Resort! We had a few questions for their Owner, Eric Jorgensen. Learn more below.
When did Marquette Mountain Resort open under new ownership?
Purchased by Eric and Sarah Jorgensen on February 12, 2020, Marquette Mountain Resort officially opened for business on February 13, 2020. Marquette Mountain Resort shut down due to COVID-19 after 31 days in business and operated for only 92 days during the winter season 2020-21, opening and closing early due to record mild winter conditions.
What makes your business unique?
"330 acres of exceptional terrain for a wide variety of outdoor activities and a unique event space. Open year-round within the Marquette City limits, convenient access to the Carp River, Lake Superior, and many hiking and biking trails."
What has been your biggest challenge?
"COVID-19 and mild winter conditions provided the opportunity to redefine our product offerings, and develop into a year-round business, with significant investment in equipment, facilities, and personnel."
Something you wish your customers knew.
"We are 1.5 years into a 4-year project of defining the Marquette Mountain Experience, evolving the business and 330 acres into something truly unique and diverse. The best is yet to come!"
Why do you like doing business in Marquette County?
"The quality of caring people, actively engaged in outdoor activities in a community encompassing Lake Superior, solid businesses, beautiful landscapes, and a strong education and arts culture."
Thank you to Marquette Mountain Resort for all that you do for our community!
Picture Credits:
PhotoYoop