Partner Spotlight with Ore Dock Brewing Company!
Posted by Lake Superior Community Partnership on August 25, 2021
This
year we have launched a monthly Partner Spotlight program as a new way to get to know LSCP Partners!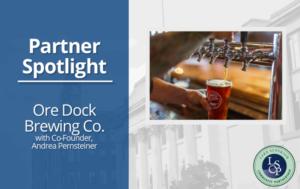 This month's Partner Spotlight is Ore Dock Brewing Company! We had a few questions for their Co-Founder, Andrea Pernsteiner. Learn more below.
How long has Ore Dock Brewing Company been in business:
"We are currently in our 10th year of business after celebrating our 9 year anniversary in May."
What makes your business unique?
"I am proud of both the space we created and the team that makes and serves our beer, seltzer, and soda. These elements together create what we hope is a uniquely Marquette experience for everyone who comes through our doors. Our team reflects our love for craft beverages and the community, and in turn, puts so much love into what we create and the people we serve. In creating the physical space – our taproom, community space, and annex, we focused on the reuse of materials found within the building, creating unique furniture pieces and design elements. For example, historic tongue and groove flooring that had to come out was repurposed into tabletops after much sanding and planning – but still retaining the stamp of 'Ishpeming Mill' on the bottom. When we had to cut through steel roof supports to create our upstairs walkway my brother took the beams and welded them into table legs that now support our community space booths. Even our fireplace was built out of the salvaged brownstone we removed to create the upstairs doorways. As a nod to this philosophy, we named our flagship IPA 'Reclamation', as we were able to reclaim so many materials for new purposes."
What has been your biggest challenge?
"I would have to say that our business, and most likely most small business in general, is a series of challenges, the magnitude of which depends on what else might be going on at that time. While tackling challenges big and small may be cumbersome at times, it makes the rewards all the sweeter. It might sound cliché, but it is truly reality that you cannot have the successes without the failures and stepping up to challenges and solving problems is part of what makes owning a business fun."
Something you wish your customers knew.
"I wish more of our customers knew how much work it takes to get that beer into their glass! We have brought a few people into our brewery team who didn't have experience in a brewery before starting with us. One of them said it best when he said "I can't look at a pint of beer the same ever again – if people only knew the work that goes into getting that liquid in their glass". So much effort is required – from the recipe formation to the brewing process and then ensuring fermentation goes as planned, the beer is treated properly during transfer, and finally, it is correctly carbonated for best presentation. A lot of love and care goes into every drop."
Why do you like doing business in Marquette County?
"Marquette County is a region unlike any other that I'm incredibly proud to call home and raise a family. The support we felt throughout this past year only galvanizes this sentiment. We have a vibrant, diverse, and supportive small business community in tandem with the vigor of regional and emerging industries. Being located along the old trestle corridor we are constantly reminded of the area's cultural and industrious past and the Yooper grit and determination that still prevails. Our arts and music scene competes with many regions twice our size while we can still find ourselves deep in the outdoors within minutes of leaving your workday behind. It's part of what makes Marquette so special. Me and my husband, Wes are so appreciative of that; to be able to balance our work at the brewery with recreation and or spending quality time with our family in such a special place."
Thank you to Ore Dock Brewing Company for all that you do for our community!