Partner Spotlight with the City of Negaunee
Posted by Lake Superior Community Partnership on April 22, 2022
This
year we have launched a monthly Partner Spotlight program as a new way to get to know LSCP Partners!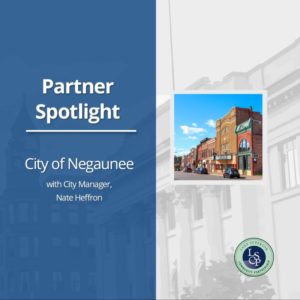 Negaunee is a great community to live, work, and
enjoy life.
That's why
the City of Negaunee is
this month's Partner Spotlight! We spoke with City Manager, Nate Heffron about the history, growth, and future of the City of Negaunee.
Mostly known for its mining history, Negaunee was the first place in Michigan where iron ore was discovered. With mining activities decreasing, Negaunee is working towards its next chapter, focusing on outdoor recreation.
From snowmobiling, off-roading, the Iron Ore Heritage Trail, biking, hiking, and water sports, Negaunee has much to offer, with more to come! Heffron states, "As we move toward this new industry, investment will be made to enhance recreational capabilities and infrastructure upgrades that will help to strengthen our current recreational systems"!
One thing that makes the City of Negaunee so unique is its business community. Negaunee businesses are welcoming and supportive. "Many business owners are very involved in their community and want to not just see their interest advance, but they also want to do good for their community and see it thrive," said Heffron. These businesses are participating in local events, and supporting school boosters, to sitting on local boards, such as the Negaunee Downtown Development Authority.
Some local events to look forward to are Pioneer Days, taking place July 1-9, and Thunder on the Range Music Fest taking place July 29-31.
Pioneer Days is a community-wide event that welcomes home Negaunee alumni. The weeklong event is celebrated with an alumni softball tournament, fireworks, a parade, and other community activities hosted primarily by the Negaunee Irontown Association and amplified by a variety of different organizations.
Thunder on the Iron Range Music Fest was organized to promote the appreciation of the Americana-Roots Music Performing Artists and the unique cultures they're derived from. All operations are exclusively for charitable and educational purposes, the promotion of the Musical Performing Arts, and provide support to local school programs and civic groups in the historic Upper Peninsula iron mining town of Negaunee Michigan.
Those who live in, or are visiting Negaunee may notice that the City is working on many infrastructure enhancements, including major water main projects over the next two years, street pavement projects, three outdoor recreation projects (Teal Lake Dock Project, Teal Lake Beach expansion project, and the Jackson Mine Playground project), and the alleyway pavement project.
These projects take time and funding, which according to Nate is the City of Negaunee's biggest challenge.
"We have spent the last few years working hard to develop and codify our overall strategy. Unlike business, the government cannot move at a fast pace. Many factors take up time and must be taken into consideration. Such as the law, procedures, policy, practice, and most importantly, public input.
Another factor that limits everyone is funding. There's just not enough funding to take care of all of the issues that need to be addressed. This can make things complicated, especially from the public's point of view. At times, we may have funding for one project that may seem to be less of a priority. A good example might be a park that gets built or fixed, rather than a street that needs to be paved. The point of view for the public might be that the street is a higher priority. However, the fact of the matter might be the funding comes from a source that only allows it to be spent on recreation."
Thank you, Nate, and the City of Negaunee for everything you do! For more information about the City of Negaunee call (906) 475-7700, visit their website at cityofnegaunee.com, or visit City Hall at 319 W. Case Street in Negaunee.