Partner Spotlight with The Up North Lodge
Posted by Lake Superior Community Partnership on July 29, 2022
This
 year we have launched a monthly Partner Spotlight program as a new way to get to know LSCP Partners!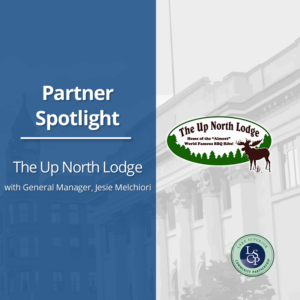 Known for their amazing food (our favorite is the ribs), fun events, and entertaining atmosphere, The Up North Lodge is July's Partner Spotlight. We had the chance to interview Jesie Melchiori, General Manager, about the 60-year history at the Up North Lodge.
It began in the early 1960s when Gretchen and Emil Gimese built a little red cabin called The Red Horse Ranch on Big Shag Lake. They served hot chocolate and hot dogs to children who would visit to go horseback riding. In 1973, the Gimese's built a bigger building that housed 13 hotel rooms, a restaurant, and a tavern. After Emil passed on, Gretchen ran it by herself until she sold it to enjoy retirement. In the spring of 1998, Scott and Sally Searle bought The Red Horse Ranch, renamed it The Up North Lodge, and refurbished the entire building.
Tragically, on June 9, 2005, a fire destroyed the structure. But then, The Up North Lodge gained new life. A new location was established on at the corner of County Rd 557 and Serenity Drive, and in July 2005, the rebuild began. On the first day of spring, June 21, 2006, The Up North Lodge reopened to the public. The tavern has a custom-made bar, and although the menu has changed slightly, they still serve "almost" world-famous BBQ ribs daily!
Although the Up North Lodge, located at 215 South County Road 557 in Gwinn, is a destination, they are definitely worth the dive. Today, the Up North Lodge is a restaurant, a bar, an outdoor venue complete with a band shell, tents, and bar, and the new home of the Up North Wedding and Event Center. The Event Center is a 6000-square foot venue complete with a kitchen, bar, ample parking, wifi, audio, and visual capabilities.
The Up North Lodge invites you to Party on the Patio. Every Sunday during the summer they host live music along with a fundraiser for local organizations on the patio. The Up North Lodge is also currently hiring. To apply or learn more about The Up North Lodge, visit their website or Facebook