Marquette County will host the Michigan Economic Developers Association 2019 Annual Meeting, "We're Going U.P.", in August
Posted by Lake Superior Community Partnership on February 26, 2019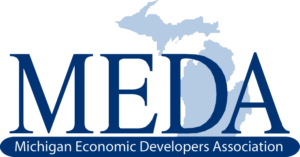 Marquette County – The Michigan Economic Developers Association (MEDA) Annual Meeting, "We're Going U.P.", will be held in Marquette County August 13-16, 2019 at the newly renovated Holiday Inn of Marquette.
MEDA's biggest education and networking event of the year is the Annual Meeting. This three-day conference includes educational sessions covering the most important economic development topics and issues of the time as well as several networking opportunities. The event agenda, activities and speakers will be announced in May 2019. The last time this conference was held in the Upper Peninsula was nearly 20 years ago.
The Lake Superior Community Partnership (LSCP) has begun collaborating with local businesses and organizations such as sponsor Travel Marquette and tour sponsors Cleveland Cliffs and PotlatchDeltic to highlight some of the Upper Peninsula's best companies to attendees.  Amy Clickner, LSCP CEO, is the Immediate Past President of MEDA and chair of the Annual Conference Committee. She has served on the MEDA Board of Directors for over eight years.
"It is an honor to have this event coming to Marquette County. It is always fun to show off all that we have to offer in the region," said Amy Clickner, LSCP CEO
More information about MEDA can be found at www.medaweb.org. For sponsorship information visit www.medaweb.org/sponsor-meda.