Sawyer Community Update
April 13, 2022 A virtual community discussion on activities and updates at Sawyer. Airport officials, consultants, and community partners will share information on the latest changes and upcoming activities, improvements, and opportunities for marketing the airport, improving the terminal, and coordinating ground transportation at Sawyer.
Watch the recorded webinar
Economic Development 411
April 6, 2022 Learn how economic development impacts our community. Gain a better understanding of business attraction, entrepreneurship in our area, retention and expansion.
Watch the recorded webinar
Employer-Based Child Care Solutions for the U.P.
January 12, 2022 Employers all over the U.P. are finding that 
child
care
 shortages are impacting their ability to retain or hire workers. Many employers have considered how they might be able to provide or contribute to 
child
care
 but often aren't sure where to start. Fortunately, we have some great examples of employer-supported 
child
care
 already taking place in our U.P. communities that we can learn from. To share these best practices and identify other regional partnerships and solutions, the Lake Superior Community Partnership and the U.P. 
Child
Care
Task Force hosted a virtual discussion on employer-based
child
care
solutions on Tuesday, January 11. This virtual event highlighted how employers within and outside the U.P. are engaging in partnerships, building
child
care
capacity, and coordinating innovative solutions to meet this critical need.
Webinar: Networking in the LSCP
October 19, 2021 How to make the most networking in the LSCP.
Watch the recorded webinar
Webinar: 2020 Marquette County Data Book
August 9, 2021 By using this report, businesses and community members can track the county's economic path to prosperity and better position ourselves for economic success in the future.
Watch the recorded webinar
Webinar: Marquette County 2040 Master Plan
July 21, 2021 Marquette County has released a draft of the 2040 Master Plan, which is available for public review! The draft 2040 Master Plan is the result of more than two years of work by Marquette County Planning Division staff and the Marquette County Planning Commission. It incorporates feedback from over 3,000 Marquette County residents who responded to the Master Plan Community Survey, the local planning bodies of every municipality in Marquette County, and a diverse array of community stakeholders from both the public and private sectors.
Watch the recorded webinar
Webinar: Economic Impact Studies
June 8, 2021 Economic impact studies can show the aggregate effects of a change in the local economy. Whether it's an event, an investment, or a change in employment wages– learn more about the impacts your business or organization is having on the community.
Watch the recorded webinar
Webinar: MI Vaccination Plan and Workplace Safety
June 2, 2021 Sean Egan, State of Michigan Director of COVID-19 Workplace Safety and Dept. of Labor and Economic Opportunity Deputy Director of Labor
Watch the recorded webinar
Webinar: MI Vaccination Plan and Workplace Safety slides
Webinar: Succession Planning
May 13, 2021
Brooke Quinn, LSCP Business Development Representative
Watch the recorded webinar
Webinar: Succession Planning slides
Webinar: Housing Trends in Marquette County
For residents and businesses to thrive, we need homes – but long-term, nationwide trends related to construction costs and housing demand are making it harder for individuals of all incomes to find the homes they need locally. To find local solutions to this issue, understanding housing trends and needs is an important first step. What kinds of housing do we need in Marquette County, and how do we build it? Who should be involved in solutions, and what's being done now? These questions were discussed during a virtual panel on Tuesday, April 27, featuring local and regional leaders. Speakers shared information about the newly-released housing needs assessment, an update on the City of Marquette's Ad Hoc Housing Committee, and details on the Marquette County housing programs.
Speakers included Sarah Lucas of Lake Superior Community Partnership, Emily Bosch of Central U.P. Planning and Development, Evan Bonsall, Marquette City Commissioner; and Anne Giroux, Marquette County Finance Director.
Below is a recording of the webinar: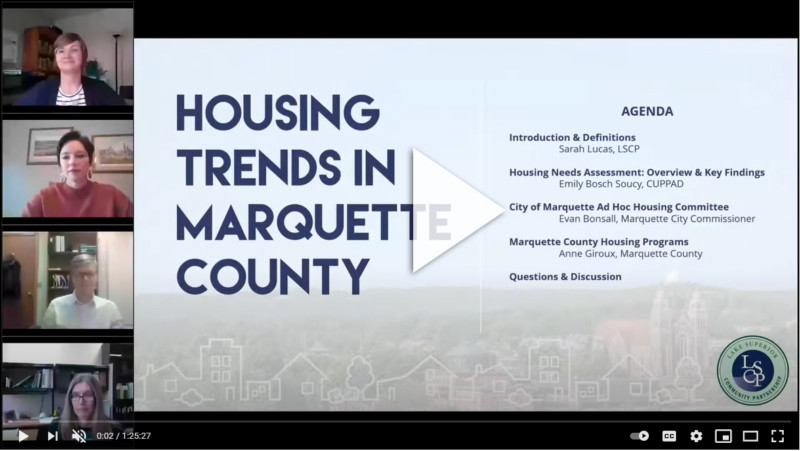 Here are some additional resources
Webinar: 2021 Business Resources Redefined
January 20, 2021
Panelists:
Benjamin Wood, Range Bank Community Bank President Amy Berglund, InvestUP Director of Business Initiatives John McNamara, Michigan Restaurant and Lodging Association VP of Government Affairs Sarah Jennings, Maner Costerisan Director and Principal of Accounting & Outsourced Solutions and Director of Strategic Initiatives and Community Engagement
Watch the recorded webinar
Webinar: 2021 Business Resources Redefined slides