New Year, New Opportunities
Posted by Lake Superior Community Partnership on January 16, 2023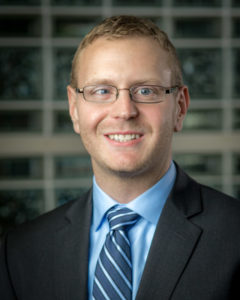 Earlier this month, I attended the first Industry Night event hosted by our friends at the Upper Peninsula Construction Council (UPCC). In the room were representatives from labor, industry, all levels of government, and so many others. It was an inspiring show of collaboration from across the Upper Peninsula. And while listening to the panel discussion, one phrase stuck out that keeps playing in my head: "Energy, utilities, mining, and paper – those are all things so many consider to be our past, but tonight reiterates that they're also part of our future."
It's so important to always be looking to the future. And while the LSCP will be celebrating 25 years of serving our region this year, we'll also keep our sight on what's next. And there's a lot to be excited about as we enter 2023.
The first quarter of the year is always busy for the LSCP team. Within the next nine weeks, the team will plan and execute four Business After Hours, the Operation Action U.P. Annual Meeting & Business Success Summit, multiple events related to the UP 200, the first of many webinars, and more. We hope you'll be able to join us for at least a few of these events, which have proven to be valuable to so many of our Partners and communities.
2023 also brings new leadership, and therefore new priorities to Lansing, and that means we'll be busy working with the Marquette County Ambassadors as they plan outreach to key officials and staff at state departments to ensure our collective voice is heard as statewide policies and programs are developed and that we continue to work with officials from all backgrounds and political parties to advance our region's interests.
We're also excited to continue our work with the Marquette County Childcare Coalition by launching the Childcare Home Business Incubator this spring. This innovative program will help provide 1:1 support to Marquette County residents interested in meeting a vital community need by establishing home-based childcare centers. Design efforts are already underway, so keep an eye out for more information in the coming months.
The Sustainable Trails Network project will see significant progress this year. First will be a series of public workshops throughout the County in the first half of February. That will be followed up by behind-the-scenes work to compile a draft plan for further review. This collaborative project is getting a lot of attention across the state. In addition, it will help further efforts to ensure our trail system remains a stable asset that adds to our economic prosperity and is available for generations to come.
The complete list is too long for this one column, but other things to keep an eye this coming year: the 2023 Annual Meeting of the Michigan Economic Developers Association here in Marquette County, new housing developments, continuing our efforts to better understand the unique economic development needs of our many Marquette County communities, a robust schedule of Business After Hours networking events, an updated webinar series, new resources for our partners, and more.
As always, we couldn't do any of this without the investment of our Partners and the collaboration of so many others. If the LSCP can ever be of assistance, please reach out. Let's make 2023 a year to remember for our shared wins and continued prosperity.
---
By Christopher Germain, CEO of the LSCP writes a bi-weekly column for the Mining Journal.