2017 Celebrations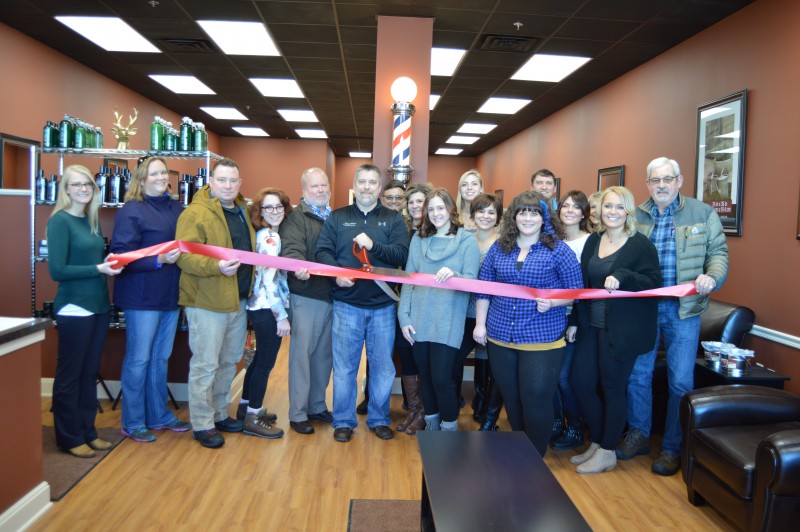 The Guys' Place celebrates grand opening
MARQUETTE – The Guys' Place, A Hair Salon for Men, recently teamed up with the Lake Superior Community Partnership (LSCP) to celebrate their grand opening. The salon offers quality service for men and boy's with a unique customer service focus. Haircuts include shampoo, conditioner, a hot towel, eyebrow and mustache trim, a shoulder rub, TV and peanuts all from your own private barber chair.
The Guys' Place is located at 3117 US Highway 41 W in Marquette and opens Saturday, January 14 at 9 a.m.
Pictured from left to right: Amy Kuivanen, LSCP Business Development Representative, Janelle Ruff, Marquette Township Planning and Zoning, Jason McCarthy, Marquette Township Planner, Emily Smith, Stylist, Dave Aro, Marquette County Ambassador, Kurt Peterson, Owner, Steve Rosiewicz, Stylist, Jess Peterson, Owner, Lexi Peterson, Alyssa Wuori, Stylist, Athena Lohr, Stylist, Angie Johnson, Manager, Don Gladwell, Marquette County Ambassador, Mari Harmala, Stylist, Karen Hayes, Taylor Badder, Stylist and John Marshall, Marquette County Ambassador.
---
2016 Celebrations
2015 Ribbon Cutting Ceremonies
2014 Ribbon Cutting Ceremonies
2013 Ribbon Cutting Ceremonies
2012 Ribbon Cutting Ceremonies