Partner Spotlight with Jandrons Fine Jewelry
Posted by Lake Superior Community Partnership on February 10, 2022
This
year we have launched a monthly Partner Spotlight program as a new way to get to know LSCP Partners!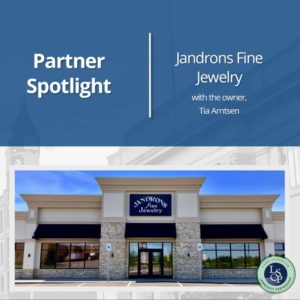 Valentine's Day is here, but have no fear! We spoke with Tia Arntsen, Jandrons Fine Jewelry owner, and they have plenty of options for your special someone (or yourself)! With 33 years in business, Jandrons Fine Jewelry is known for its fair pricing and great customer service during and after the sale. Their biggest challenge? Keeping up with growth in sales over the last two years! Jandron's contributes its success to the customers right here in Marquette County. "Marquette is our hometown, we love being a part of this community! We have grown a large customer base over the last 33 years, many of which were customers of Neil Jandron during his days at Jean's Jewelry nearly 50 years ago," said Tia. Jandrons Fine Jewelry realizes the importance of giving back to their community, which is why they plan on showing some love all month long! Beginning Monday, February 7 through February 14, Jandrons Fine Jewelry will be offering a free box of Doncker's Chocolates with a $100 purchase (limit one per customer). February 15 through February 28, they are inviting everyone to stop by and nominate their favorite local charity or non-profit! Each day Jandrons will donate $100 to the charity drawn for that day! And as a special thank you to our wonderful community, Jandron's will combine all of the non-winning nominations from December and February and hold a $500.00 drawing on Friday, March 11 which is Spread Goodness Day! Jandrons Fine Jewelry is located at 605 County Rd HQ in Marquette. For more information about Jandrons Fine Jewelry and its products, visit
www.jandronsfinejewelry.com
, call (906) 226-8900, or check out their Facebook Page.