Partner Spotlight with Stuga North Veterinary Care
Posted by Lake Superior Community Partnership on March 17, 2022
This
year we have launched a monthly Partner Spotlight program as a new way to get to know LSCP Partners!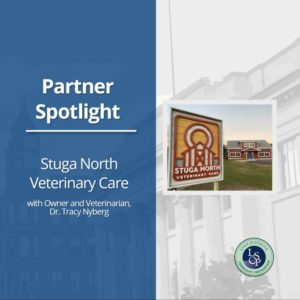 This month's Partner Spotlight is the Stuga North Veterinary Care! We spoke with Veterinarian and Stuga North Owner, Dr. Tracy Nyberg, about her "pawsitive" experience starting a business in Marquette County amid a pandemic and while raising a family.
Stuga North Veterinary Care opened its doors in October 2020 with a very small one-doctor team. Since then, the start-up veterinary hospital has grown into a three-doctor practice with the best support team in a short amount of time.
"We have been able to keep to our ideals of offering high-quality medicine while also culturing a community-centered practice where clients and pets feel welcomed and valued," commented Dr. Nyberg. "Our entire team cares about our patients as if they were our own pets and love coming to work every day to make a difference."
Not originally from Marquette County, Dr. Nyberg and her husband, Dave, say their family has been embraced in a way that makes them feel like this has always been their home.
Dr. Nyberg added, "from the very beginning we had support in the planning of our business (Accelerate U.P.), amazing architects (Integrated Designs, Inc.), contractors (Closner Construction), and every job we have had completed has remained local. From the first day we opened, the support has been amazing to the point we had to have a wait-list for new clients within three months of opening."
Dr. Nyberg says it's truly is a privilege to provide veterinary services to Marquette County and the surrounding Upper Peninsula. Thank you, Dr. Nyberg and Stuga North "fur" everything you do!
Stuga North Veterinary Care is located at 933 Lake Shore Boulevard in Marquette. For more information about this "pawsome" veterinary care clinic, call (906) 345-6012 or check out their Facebook Page.