Supporting Small Businesses with Big Investments 
Posted by Lake Superior Community Partnership on November 20, 2023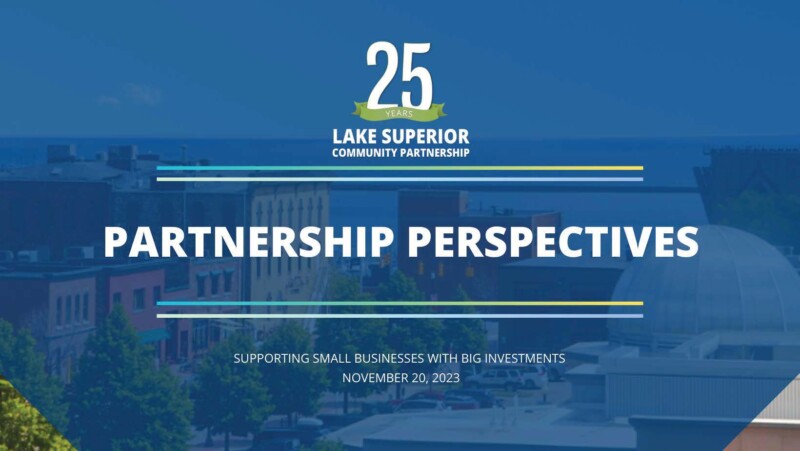 As we head into the holiday shopping season, it's always a great time to plan a strategy for how and where you'll find the perfect gifts for those on your list. The National Retail Federation expects a 3-4% increase in sales for November and December, amounting to about $960 million. This indicates that shoppers will continue to boost the economy, benefiting businesses of all sizes. 
For many of us, those gifts will come from local small businesses. You've likely heard it before, but it bears repeating: $0.68 of every dollar spent at these businesses stays in the local economy. With 96% of businesses in Marquette County being considered a small business (by federal definitions), those cents add up. Considering just three sectors from the 2022 Marquette County Data Booklet—Arts/Entertainment/Recreation, Retail Trade, and Accommodation/Food Services—the impact of this spending could be over $425 million. Although this is an estimate, it highlights the substantial role of small businesses in our local economy. 
With this in mind, the Lake Superior Community Partnership (LSCP) has invested significant time and effort in 2023 to support these small businesses through new and existing programs and resources.  
The most recent achievement: $3.4 million from the Michigan Economic Development Corporation to fund a collaborative project, led by the LSCP, to create a Central Upper Peninsula Small Business Support Hub (the Hub). Once up and running in early 2024, the Hub will coordinate resources currently spread across multiple organizations to help small businesses match to the resources they need to achieve their goals. The Hub will include boots-on-the-ground support across seven counties via Resource Navigators to meet businesses where they are at. It will also support the creation of the Northern Michigan University Main Street Program which will connect teams of students to businesses to solve identified challenges. And in 2024, the Hub will include over $400,000 in direct grants to businesses.  
We're honored by this investment from the MEDC and working quickly with our partners to get the Hub up and running. I'd be remiss if I didn't thank our partners for their time to build out the concept and join us in applying: Accelerate UP, Innovate Marquette SmartZone, NMU, Small Business Development Center Upper Peninsula, Keweenaw Bay Indian Community, and Sault Tribe Inc. 
But, the Hub is just one of many other services and efforts designed to support our small business community. Since its founding in June 2020, $391,300 has been loaded onto 4,373 Love on Local gift cards to be spent at local small businesses in Marquette County. Love on Local is particularly popular during the holiday season. You can learn more at loveonlocal.com and order cards for your friends, family, coworkers, and others right from the comfort of your computer. 
The LSCP also established the Small Business Advisory Council (SBAC) in 2023. While most of our efforts this year were put into designing and funding the Hub, SBAC will meet in 2024 as the Hub is implemented and the LSCP continues to ensure our resources and services – from ribbon cuttings and Business After Hours to economic impact studies, business referrals, and webinars – are available and valuable to businesses of all sizes.  
On Small Business Saturday (November 25) and throughout the year, we hope everyone will continue to support our local small businesses in Marquette County. We're proud to have so many as LSCP Partners and look forward to a successful holiday shopping and gathering season to come. We're so thankful for everything our community does to support a vibrant local and regional economy that allows small businesses to thrive.